There was a small patch for the H1Z1: King of the Kill test server on Septermber 22nd.
Official Patch notes can be found here
With this update, an image has been introduced to the test server files, for a new crate called the "Trickster Crate".
The image can be found here: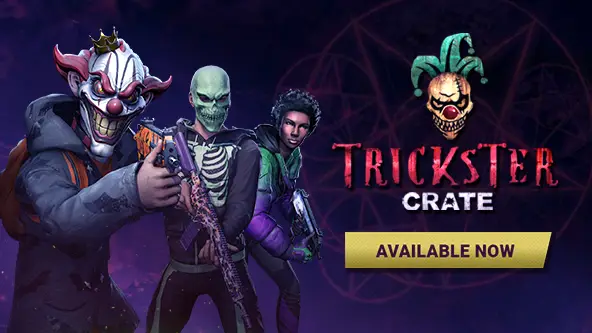 Contained Skins speculation:
Unfortunately there are no icons yet to be found so we will need to speculate about some items and their names.
Mask of the Jester (somehow different)
Parka with bats
Orange Graphics Hellfire 4-6
Green Bone Full Helmet
Green Bone Hoodie
Green Bone Baggy Pants
Vulcanic AR-15
Green and Purple Puffy Jacket
Green and Purple Padded Gloves
Frostbite Hellfire 4-6 (could be something way different)
Usually, when a new crate finds it's way into the game files it doesn't take long for the crate to be released, stay tuned!